Hosts regular screenings for mammograms, blood pressure, and eye health.   Children's behavioral health resources available through the Children's Center on campus.  Maternal infant health resources and doula services available to the community.   Also provides wide variety of programs, including job training and workforce readiness programs (industry partnerships and apprenticeships), Center for Children (doula support, Early Head Start, Head Start, Great Start readiness), Youth Development programs (Generation Promise Program, Excel Photography Program), Center for Working Families (financial literacy and coaching), Small Business Support programs, and food assistance for low-income seniors.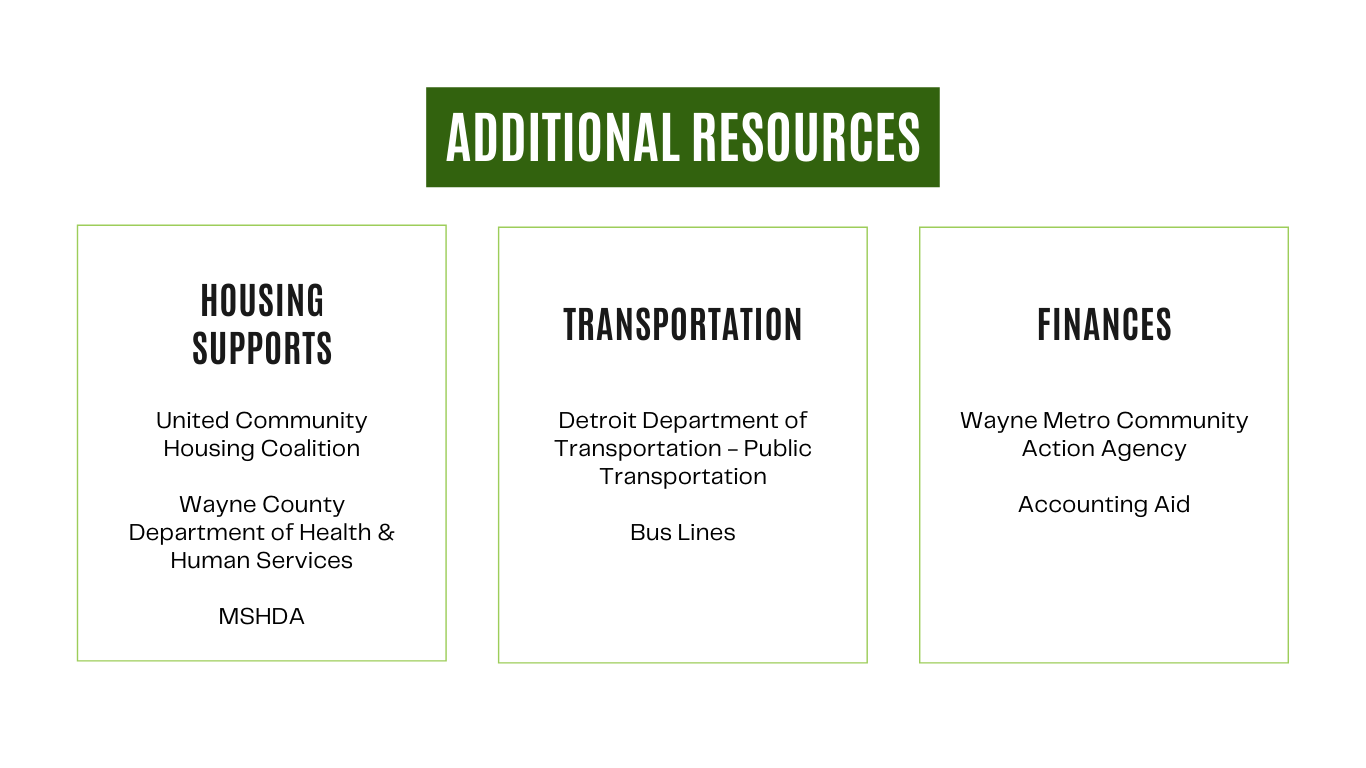 Provides immunizations; vision and hearing screenings; Women, Infants, & Children Program (WIC); environmental health services (water lead tests); health care services for children with special needs; maternal health resources; STI clinics; and reproductive health resources including iDecide (targeted sexual health services for teens).

Services available to all Detroiters; some eligibility requirements apply for certain programs.
Partnered with a network of agencies, DWMHA provides services for adults with mental illness, individuals with developmental disabilities, children with serious emotional disturbances and persons with substance use disorders. Services include: community living supports to people with mental illness; parent support partners (peer network) for parents of children with mental health challenges; mental health services for LGBTQ youth; substance abuse prevention, treatment, and recovery services for people aged 11+; and autism screening and treatment for Medicaid-eligible children.

Eligibility criteria for many services include Wayne County resident, Medicaid / Health MI recipient, and medical necessity. 
Provides services for homeless adults, seniors, and adults with mental health concerns. Additional programs include:  YouthLink jobs program, partnership with DMC mobile clinic, primary care services for residents, housing @ Bell Building and housing assistance to homeless adults 18+, street outreach to homeless, Tumaini Homeless Shelter, support with dementia and developmental disabilities, and screening services for older adults in assisted living facilities.
Provides 48 fixed bus lines serving Detroit and 23 surrounding communities, Metro Lift (ADA complementary paratransit options for people with disabilities), Night Shift program (Lyft credit for transit from bus stop to home), Fresh Wagon bus service from nearby neighborhoods to Eastern Market on Saturday mornings), and other programs.

Services available to all; special fare rates available.
Provides a wide variety of health, wellness, and education programs for individuals and families. Financial services include: Foreclosure Intervention Program, Home Repair Loan Program, free tax preparation.

Some services are available to anyone in Wayne County, others available only to low-income individuals and families. 
Provides full-service and "drop and go" tax preparation options, financial counseling, and support for tax disputes with the IRS. 

Some services available to only low-income individuals and families.